UK breaks hold significant value for various reasons. Firstly, the UK is steeped in history, and many breaks offer opportunities to explore its historical landmarks and heritage sites. From the grandeur of Edinburgh Castle in Scotland to the ancient Roman ruins in Bath, UK breaks allow visitors to delve into the country's fascinating past. Secondly, the UK is known for its cultural diversity, and breaks in cities like London, Manchester, or Edinburgh provide a blend of multicultural experiences. Visitors can immerse themselves in world-class museums, art galleries, theater performances, and music festivals, and savor culinary delights from different cuisines.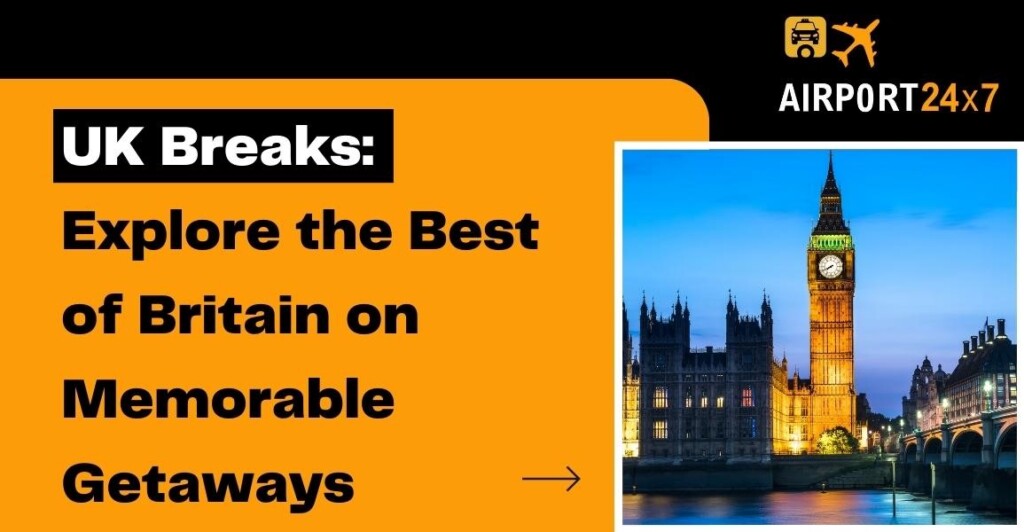 What are best UK breaks
The UK offers a wide range of options for Staycations in the UK, catering to various interests and preferences. Here are some popular UK breaks that stand out:
City Breaks:

London: The capital city is a top choice for city breaks. With iconic landmarks like the Tower of London, Buckingham Palace, and the British Museum, along with world-class theaters, shopping districts like Oxford Street, and diverse culinary experiences, London offers something for everyone.
Edinburgh: Known for its stunning architecture, Edinburgh is a charming city that combines history, culture, and breathtaking scenery. Explore the historic Edinburgh Castle, stroll along the Royal Mile, and experience the lively atmosphere during the Edinburgh Festival.

Coastal Breaks:

Cornwall: Located in southwest England, Cornwall is famous for its picturesque coastline, sandy beaches, and quaint fishing villages. Visit popular destinations like St. Ives and Padstow, indulge in water sports, explore the Eden Project's biodomes, and savor fresh seafood.
Scottish Highlands: For a rugged and dramatic coastal experience, the Scottish Highlands offer majestic cliffs, lochs, and remote beaches. Discover the stunning landscapes of the Isle of Skye, hike in the Cairngorms National Park, or take a scenic drive along the North Coast 500 route.

Countryside Retreats:

The Lake District: Located in northwest England, the Lake District is renowned for its stunning lakes, verdant valleys, and rugged mountains. Enjoy leisurely walks or challenging hikes, go boating on Lake Windermere, and visit charming villages like Ambleside and Grasmere.
Cotswolds: This designated Area of Outstanding Natural Beauty is characterized by rolling hills, honey-colored stone villages, and picturesque countryside. Explore the charming towns of Bourton-on-the-Water and Stow-on-the-Wold, visit historic manor houses, and enjoy traditional English tea in quaint tea rooms.

Historical Breaks:

Bath: Known for its Roman-built baths and Georgian architecture, Bath offers a unique historical experience. Visit the Roman Baths, admire the grandeur of the Royal Crescent, and explore the city's rich history and literary connections, including the Jane Austen Centre.
York: With its well-preserved medieval walls and historic sites, York is a treasure trove of history. Explore York Minster, walk along the Shambles, visit the Jorvik Viking Centre, and learn about the city's Roman and Viking heritage.

Cultural Breaks:

Stratford-upon-Avon: The birthplace of William Shakespeare, Stratford-upon-Avon offers a cultural immersion into the world of the Bard. Visit Shakespeare's Birthplace, watch a play at the Royal Shakespeare Theatre, and explore the charming Tudor-style streets.
Liverpool: This vibrant city is known for its rich musical heritage, being the birthplace of The Beatles. Explore The Beatles Story museum, visit the iconic Cavern Club, and discover the city's cultural offerings, including the Tate Liverpool art gallery and the UNESCO-listed waterfront.
These are just a few examples of the best UK breaks, showcasing the diverse range of experiences available. Whether you're interested in history, culture, coastal beauty, or tranquil countryside, the UK offers a plethora of options to suit different preferences and create unforgettable experiences.
What are some Affordable UK Breaks?
If you're looking for affordable UK breaks, there are several options available that provide great experiences without breaking the bank. Here are some ideas:
Budget-Friendly Cities:

Manchester: This vibrant city offers a range of affordable accommodations, and many attractions, such as the Manchester Art Gallery and the Museum of Science and Industry, offer free admission. Explore the lively Northern Quarter, known for its independent shops and street art.
Cardiff: The capital of Wales offers a mix of history, culture, and entertainment. Visit Cardiff Castle and Bute Park, stroll along Cardiff Bay, and explore the National Museum Cardiff, which is free to enter.

Coastal Getaways:

Blackpool: Known for its iconic Pleasure Beach amusement park and lively promenade, Blackpool is a popular seaside destination. Enjoy the beach, visit the Blackpool Tower Circus, and take a walk along the famous Golden Mile.
Scarborough: This traditional seaside resort on the North Yorkshire coast offers beautiful beaches, scenic coastal walks, and affordable accommodations. Don't miss a visit to Scarborough Castle and the Rotunda Museum of Geology.

National Parks and Countryside:

Peak District: This stunning national park in central England offers breathtaking landscapes, charming villages, and a range of affordable accommodations, including campsites and budget-friendly B&Bs. Enjoy hiking, cycling, and exploring landmarks like Chatsworth House and Dovedale.
Brecon Beacons: Located in South Wales, the Brecon Beacons National Park offers picturesque valleys, waterfalls, and open moorland. It's an ideal destination for hiking, cycling, and stargazing. Budget-friendly accommodation options include campsites and self-catering cottages.

Historic Towns and Villages:

York: While it can be a popular tourist destination, York has affordable accommodation options, especially if you book in advance. Enjoy free attractions like walking along the medieval city walls, exploring the Shambles, and visiting the National Railway Museum.
Bath (off-peak): While Bath is known for its Georgian charm and historical attractions, visiting during off-peak seasons can often lead to more affordable accommodations. Take advantage of the city's free attractions, such as walking the Royal Crescent and exploring the city's beautiful parks.

Nature Retreats:

Northumberland: This county in northeastern England is home to stunning coastlines, castles, and Hadrian's Wall. Enjoy affordable accommodations in charming market towns like Alnwick and Hexham and explore the region's natural beauty in places like the Northumberland National Park and Farne Islands.
Isle of Wight: Accessible by ferry, the Isle of Wight offers beautiful beaches, scenic walks, and historic attractions. Look for affordable B&Bs and self-catering accommodations, and enjoy exploring places like Osborne House and the Needles.
Remember to plan your trip in advance, compare prices, and consider visiting during off-peak seasons for better deals on accommodations and attractions. Additionally, utilizing public transportation or car-sharing options can help save on travel expenses.
What you should know about Luxury UK Breaks?
Luxury UK breaks refer to high-end vacations or getaways within the United Kingdom that offer indulgent and exclusive experiences. These breaks or UK Holiday Destinations are designed to provide a heightened level of comfort, service, and refinement, catering to individuals or couples seeking a luxurious and memorable travel experience.
Luxury UK breaks can encompass various types of accommodations, including boutique hotels, country estates, lavish resorts, and even exclusive rentals such as private villas or cottages. These accommodations typically boast upscale amenities, elegant decor, spacious rooms or suites, and personalized services. They may also offer additional luxuries like spa facilities, fine dining restaurants, private gardens, swimming pools, and fitness centers.
When it comes to destinations, there are numerous options available. For those seeking a city escape, cities like London, Edinburgh, Bath, and Oxford are popular choices. These cities boast a rich cultural heritage, stunning architecture, high-end shopping districts, renowned restaurants, and world-class entertainment.
For those who prefer a countryside retreat, the UK is blessed with picturesque landscapes, including rolling hills, scenic coastlines, and quaint villages. Areas such as the Cotswolds, the Lake District, the Scottish Highlands, and the Cornish coast offer idyllic settings for luxurious getaways. Visitors can engage in outdoor activities such as hiking, horseback riding, golfing, or simply indulge in the tranquility and natural beauty of the surroundings.
Luxury UK breaks can also cater to specific interests. History enthusiasts may opt for stays in stately homes or castles that have been converted into luxury accommodations. Food and wine lovers can explore regions known for their culinary delights, such as Yorkshire, Cornwall, or the Scottish whisky trail, and enjoy gourmet dining experiences featuring locally sourced ingredients and award-winning chefs.
In addition to the accommodation and destination, luxury UK breaks often provide curated experiences and personalized itineraries. These may include private tours of historical landmarks, visits to exclusive art galleries, access to VIP events or performances, and opportunities to participate in unique cultural activities or workshops.
What are some Family-friendly UK Breaks
There are numerous family-friendly UK breaks that cater to the needs and interests of families with children. Here are some popular options:
Theme Parks: The UK is home to several exciting theme parks, such as Alton Towers, LEGOLAND Windsor, Chessington World of Adventures, and Thorpe Park. These parks offer a wide range of rides, attractions, shows, and themed areas suitable for children of different ages.
Coastal Resorts: Coastal towns and resorts like Cornwall, Devon, Brighton, and Blackpool are great destinations for family breaks. They offer sandy beaches, amusement arcades, seaside attractions, and family-friendly entertainment options. You can enjoy activities like building sandcastles, going for boat rides, visiting aquariums, or exploring amusement piers.
National Parks: The UK has stunning national parks that provide opportunities for outdoor adventures and exploration. Places like the Lake District, Snowdonia, Peak District, and New Forest offer hiking trails, cycling routes, wildlife spotting, and family-friendly activities such as boat trips, nature walks, and picnics.
Historical Sites: Exploring historical sites can be educational and entertaining for the whole family. Places like Stonehenge, Tower of London, Edinburgh Castle, and Warwick Castle provide insights into the country's rich history. Many of these sites offer interactive exhibits, guided tours, and special events tailored for families.
Family-Friendly Resorts: There are numerous family-friendly resorts in the UK that provide a range of amenities and activities suitable for children. These resorts often have kids' clubs, swimming pools, play areas, and organized entertainment programs. Center Parcs, Butlins, and Haven are well-known resort chains that cater to families.
Wildlife and Nature: Families can enjoy wildlife and nature experiences in places like the Scottish Highlands, Pembrokeshire Coast, or the Isle of Wight. These locations offer opportunities for animal encounters, birdwatching, seal spotting, and exploring nature reserves.
Museums and Science Centers: Cities like London, Manchester, and Glasgow have excellent museums and science centers that are family-friendly. Museums such as the Natural History Museum, Science Museum, and National Museum of Scotland offer interactive exhibits, workshops, and activities designed for children.
Family-Friendly Cities: Cities like London, Edinburgh, York, and Bath have attractions and activities suitable for families. These cities offer a mix of historical sites, museums, parks, child-friendly restaurants, and entertainment options like theaters and cinemas.
When planning a family-friendly UK break, it's important to consider the ages and interests of your children to ensure that the activities and attractions align with their preferences. Additionally, checking for family-friendly accommodations with spacious rooms, childcare facilities, and amenities for children can enhance the overall experience.
What do you need to know about Romantic UK Breaks?
The UK offers numerous romantic breaks for couples. Here are a few suggestions:
Edinburgh, Scotland: Explore the picturesque city with its historic castle, charming streets, and stunning views. Enjoy a romantic walk along the Royal Mile or visit the beautiful Holyrood Park.
The Lake District, England: Experience the breathtaking landscapes of lakes and mountains. Take leisurely walks, go boating, or simply relax in a cozy cottage while enjoying the stunning natural surroundings.
Bath, England: Known for its Georgian architecture and Roman baths, Bath offers a romantic atmosphere. Visit the famous Bath Abbey, take a stroll through the Royal Crescent, and indulge in a relaxing spa treatment.
The Cotswolds, England: Discover the quintessential English countryside with its charming villages, thatched cottages, and rolling hills. Enjoy scenic walks, visit traditional tea rooms, and explore historic market towns.
The Isle of Skye, Scotland: Escape to this remote island and experience its rugged beauty. Discover dramatic landscapes, ancient castles, and breathtaking coastal views that make it a perfect romantic getaway.
The Scottish Highlands: Immerse yourselves in the majestic landscapes of mountains, lochs, and glens. Take scenic drives along the North Coast 500 route, visit picturesque villages, and enjoy outdoor activities like hiking or wildlife spotting.
Remember to check travel restrictions or Travel Tips for UK Breaks and availability, as well as any COVID-19 guidelines or requirements, before planning your trip.
What are some Seaside UK Breaks?
Seaside UK breaks are popular options for those seeking a relaxing and refreshing getaway along the beautiful coastlines of the United Kingdom. With a wide variety of coastal destinations to choose from, ranging from charming fishing villages to vibrant beach resorts, there is something for everyone.
One of the appealing aspects of seaside UK breaks is the stunning natural beauty of the coastal landscapes. The UK is blessed with breathtaking coastlines, including dramatic cliffs, sandy beaches, and picturesque coves. Whether you prefer long walks along the shore, basking in the sun on the beach, or exploring hidden coastal paths, you can indulge in nature's wonders and unwind in a tranquil setting.
Seaside towns and villages offer a unique charm and character that reflects the country's rich maritime history. Many of these towns boast colorful cottages, bustling harbors, and lively promenades lined with shops, cafes, and seafood restaurants. You can wander through quaint streets, visit local markets, and sample delicious coastal cuisine, including freshly caught fish and chips or a traditional cream tea.
Seaside UK breaks also provide numerous recreational activities for visitors. Water sports enthusiasts can enjoy swimming, surfing, kayaking, or paddleboarding in the invigorating waters. Fishing enthusiasts can try their luck on piers or join a boat trip for deep-sea fishing. Coastal paths and cycling routes provide opportunities for outdoor exploration and breathtaking views.
For those interested in history and culture, many seaside towns in the UK boast fascinating attractions and landmarks. From ancient castles and forts to museums dedicated to the maritime heritage, there are plenty of opportunities to delve into the region's past and learn about its historical significance.
Furthermore, seaside breaks in the UK often offer family-friendly entertainment options. Many coastal resorts have amusement parks, arcades, and mini-golf courses that provide endless fun for children and adults alike. Traditional seaside activities such as donkey rides, sandcastle building, and ice cream indulgence are also popular.
Seaside UK breaks cater to a range of accommodation preferences. From luxury hotels and resorts with stunning sea views to cozy bed and breakfasts or self-catering cottages, you can find an option that suits your budget and needs. Camping and caravan sites are also available for those seeking a closer connection to nature.
In summary, seaside UK breaks offer a delightful combination of natural beauty, coastal charm, recreational activities, history, and family-friendly entertainment. Whether you're looking for a peaceful retreat or an action-packed holiday, the UK's coastal destinations provide an ideal escape to rejuvenate and create lasting memories.
What do you need to know about Winter UK Breaks?
Winter UK breaks offer a unique and enchanting experience for travelers seeking a getaway during the colder months. Here are some key things to know about winter breaks in the UK:
Festive Atmosphere: Winter in the UK is synonymous with the holiday season, and cities and towns come alive with a festive atmosphere. Christmas markets, ice skating rinks, and dazzling light displays create a magical ambiance that adds to the charm of winter breaks.
Cosy Accommodation: Many accommodations in the UK cater to the winter season by providing cosy settings. From charming country inns with roaring fireplaces to boutique hotels with luxurious amenities, you can find a wide range of options to make your stay comfortable and warm.
Winter Sports: If you're a fan of winter sports, the UK offers opportunities for skiing, snowboarding, and other winter activities. The Scottish Highlands are known for their ski resorts, where you can hit the slopes and enjoy breathtaking mountain scenery.
Winter Walks: Despite the colder temperatures, winter is a great time to explore the UK's natural landscapes. Coastal walks, countryside hikes, and woodland trails take on a different beauty in winter, with frost-covered landscapes and the chance to spot wildlife in quieter surroundings.
Seasonal Cuisine: Winter in the UK brings an array of comforting and hearty culinary delights. Traditional dishes like roast dinners, warming soups, mulled wine, and mince pies are popular during this time. You can also indulge in festive afternoon teas and sample seasonal treats unique to winter breaks.
Cultural Events: The winter season in the UK is filled with cultural events and festivals. From New Year's celebrations and fireworks displays to traditional pantomimes and theater productions, there are plenty of opportunities to immerse yourself in the arts and entertainment.
Historical Sites and Museums: Winter breaks provide a chance to explore historical sites and museums without the usual crowds. From majestic castles to renowned museums and galleries, you can delve into the country's rich history and culture at a more leisurely pace.
Spa Retreats: Winter is an excellent time to treat yourself to a relaxing spa retreat. Many hotels and resorts offer spa facilities where you can indulge in rejuvenating treatments, hot tubs, saunas, and steam rooms, providing a blissful escape from the chilly weather.
Winter Wildlife: The UK's countryside and coastal areas are home to diverse wildlife, and winter presents unique opportunities for wildlife enthusiasts. You may have the chance to spot wintering birds, and seals along the coast, or even witness the spectacle of deer rutting in certain locations.
Weather Considerations: Winter weather in the UK can be unpredictable, with chilly temperatures and the possibility of rain, snow, or fog. It's advisable to check the weather forecast and pack accordingly, including warm clothing, waterproof gear, and appropriate footwear.
In summary, winter UK breaks offer a blend of festive cheer, outdoor activities, cultural experiences, and cosy retreats. Whether you're seeking a winter wonderland adventure or a relaxing escape, the UK provides a diverse range of options to make your winter break memorable.
What you should know about summer UK breaks?
Summer UK breaks offer a wonderful opportunity to enjoy the country's natural beauty, outdoor activities, cultural events, and coastal delights. Here are some key things to know about summer breaks in the UK:
Pleasant Weather: Summer in the UK typically brings milder temperatures, longer daylight hours, and a higher chance of sunshine. It's a great time to enjoy outdoor activities and explore the country's picturesque landscapes.
Coastal Escapes: The UK is renowned for its stunning coastline, and summer breaks provide an ideal opportunity to visit charming seaside towns, relax on sandy beaches, and indulge in water sports such as swimming, surfing, and sailing. Coastal walks and picnics by the sea are popular summer activities.
Outdoor Events and Festivals: Summer in the UK is filled with exciting events and festivals. From music festivals and open-air concerts to garden shows and sporting events, there's always something happening during the summer months. Notable events include the Edinburgh Festival Fringe, Wimbledon tennis championships, and various music festivals across the country.
Historic Sites and Landmarks: The UK is steeped in history, and summer breaks allow you to explore its wealth of historic sites and landmarks. From majestic castles and stately homes to ancient ruins and UNESCO World Heritage sites, there are numerous opportunities to delve into the country's rich heritage.
Cultural Experiences: Summer breaks provide a chance to immerse yourself in the UK's vibrant arts and cultural scene. Museums, galleries, and theaters showcase a variety of exhibitions, performances, and shows. Outdoor theater productions and live music performances are also popular during the summer months.
Countryside Retreats: The UK's countryside is a haven of natural beauty, and summer is an ideal time to explore its rolling hills, lush meadows, and tranquil lakes. Hiking, cycling, and picnicking in the countryside offer a refreshing escape from city life and an opportunity to connect with nature.
Garden Visits: The UK is known for its magnificent gardens, many of which are at their best during the summer months. From grand estates with meticulously manicured gardens to picturesque botanical gardens, you can wander through colorful blooms, enjoy peaceful surroundings, and admire the artistry of landscape design.
Family-Friendly Activities: Summer breaks are perfect for family vacations in the UK. Many attractions and destinations offer family-friendly activities such as theme parks, wildlife parks, zoos, and interactive museums. Children can also enjoy outdoor play areas, adventure parks, and farm visits.
Outdoor Dining and Local Cuisine: Summer breaks present an opportunity to savor the UK's diverse culinary scene. From enjoying seafood at coastal restaurants to picnicking in parks and exploring food markets, you can sample local delights and dine alfresco in the pleasant summer weather.
Planning and Booking: As summer is a popular time for tourism in the UK, it's advisable to plan and book your accommodations, attractions, and transport in advance. This ensures availability and allows you to secure the best deals.
In summary, summer UK breaks offer a blend of outdoor adventures, cultural experiences, coastal escapes, and family-friendly activities. Whether you're seeking relaxation, exploration, or excitement, the UK provides a range of options to make your summer break unforgettable.
What are some Weekend UK Breaks?
Here are some popular weekend break destinations in the UK:
London: Explore iconic landmarks like the Tower of London, Buckingham Palace, and the British Museum. Enjoy world-class shopping, West End shows, and vibrant nightlife.
Edinburgh: Discover the historic charm of Scotland's capital city, including the Royal Mile, Edinburgh Castle, and Arthur's Seat. Don't miss the famous Edinburgh Festival in August.
Bath: Visit the Roman Baths, the stunning Bath Abbey, and the Georgian architecture. Relax in the city's famous hot springs and indulge in spa treatments.
York: Immerse yourself in medieval history by exploring York Minster, the city walls, and the narrow Shambles. Visit the Jorvik Viking Centre and enjoy the city's cozy pubs.
Oxford: Experience the prestigious university town, with its beautiful college buildings, Bodleian Library, and punting on the River Thames. Visit the Ashmolean Museum and enjoy the lively atmosphere.
Cambridge: Explore the renowned university city, famous for its stunning colleges, including King's College Chapel. Take a relaxing punt along the River Cam and admire the picturesque scenery.
Lake District: Enjoy the natural beauty of England's largest national park. Hike the fells, visit charming towns like Keswick and Windermere, and cruise on Lake Windermere.
Cotswolds: Explore the idyllic villages with honey-colored cottages, such as Bourton-on-the-Water and Bibury. Take scenic walks, visit historic castles, and enjoy traditional pub lunches.
Brighton: Experience the vibrant seaside atmosphere, stroll along the famous Brighton Pier, and relax on the pebble beach. Explore the quirky shops in the Lanes and enjoy the city's nightlife.
Cornwall: Discover stunning coastal landscapes, including Land's End and the picturesque villages of St Ives and Padstow. Enjoy surfing, beach walks, and delicious seafood.
Remember to check current travel restrictions and accommodation availability before planning your weekend break.
FAQs
What are the best UK breaks for families?
Here are some of the best UK breaks for families:
Cornwall: With its beautiful beaches, coastal scenery, and family-friendly attractions like the Eden Project and the Lost Gardens of Heligan, Cornwall offers plenty of outdoor activities for all ages.
Isle of Wight: This island off the south coast of England is known for its family-friendly beaches, adventure parks like Blackgang Chine and Robin Hill, and attractions such as the Needles Park and Carisbrooke Castle.
Pembrokeshire: Located in Wales, Pembrokeshire offers stunning coastal landscapes, family-friendly beaches, and activities like boat trips to spot wildlife, exploring castles, and enjoying outdoor adventures in the Pembrokeshire Coast National Park.
Lake District: A great destination for families who love outdoor activities and nature. The Lake District offers scenic walks suitable for all ages, boat rides on the lakes, visits to Beatrix Potter's Hill Top Farm, and the interactive World of Beatrix Potter attraction.
Center Parcs: With several locations across the UK, Center Parcs provides a perfect family retreat. Enjoy a range of activities, including swimming, cycling, nature walks, and adventure playgrounds, all within a forest setting.
Legoland Windsor: A theme park dedicated to the famous toy bricks, Legoland Windsor offers rides, shows, and interactive experiences that cater to children of all ages.
The Cotswolds: This picturesque region offers charming villages, family-friendly farm attractions, such as Cotswold Farm Park, and outdoor activities like cycling and walking. Visit the Cotswold Wildlife Park or take a boat trip along the River Avon.
The New Forest: Known for its wild ponies and vast green spaces, the New Forest is ideal for families who enjoy outdoor adventures. Explore the forest on foot, by bike, or even on horseback.
Alton Towers: One of the UK's most popular theme parks, Alton Towers offers a wide range of rides and attractions suitable for all ages, as well as a water park and themed hotels for an immersive experience.
Yorkshire Dales: With its beautiful landscapes, charming towns, and family-friendly attractions like the National Railway Museum in York, the Yorkshire Dales offers a mix of outdoor adventures and cultural experiences.
Remember to check the opening times and availability of attractions and accommodations before planning your family break.
How to plan a UK break?
Planning a UK break involves several key steps. Here's a guide to help you plan your trip effectively:
Determine the Duration: Decide how long you want your UK break to be. Consider the number of days you have available and your travel preferences.
Choose Destinations: Research and decide on the destinations you want to visit in the UK. Consider your interests, whether you prefer cities, coastal areas, historical sites, or natural landscapes. Refer to previous suggestions for popular UK break destinations.
Research Attractions and Activities: Look up the attractions and activities available in your chosen destinations. Consider landmarks, museums, parks, outdoor activities, and family-friendly options. Make a list of the top places you want to visit and activities you want to experience.
Check Travel Restrictions and Requirements: Check the latest travel restrictions, visa requirements, and any specific COVID-19 guidelines or entry requirements that may be in place. Ensure you have the necessary documentation and make any required bookings or reservations in advance.
Plan Accommodation: Research and book accommodation that suits your budget and preferences. Options range from hotels and bed and breakfasts to vacation rentals and camping sites. Consider factors such as location, amenities, and proximity to attractions.
Transportation: Determine the best mode of transportation for your trip. Options include flying, train travel, renting a car, or utilizing public transport. Consider factors such as convenience, cost, and the locations you plan to visit. Book flights, train tickets, or car rentals in advance to secure the best deals.
Create an Itinerary: Based on your chosen destinations, attractions, and the duration of your trip, create a rough itinerary. Allocate time for each location and activity, allowing for flexibility. Consider travel time between destinations and prioritize your must-see attractions.
Pack Accordingly: Check the weather forecast for your travel dates and pack clothing and essentials accordingly. Consider the activities you have planned and any specific requirements or restrictions at attractions or accommodations.
Organize Documents and Finances: Ensure you have all necessary travel documents, such as passports, visas, and ID cards. Make copies or store digital versions in case of loss. Set a budget for your trip, including accommodation, transportation, meals, attractions, and souvenirs.
Stay Updated: Keep track of any changes in travel restrictions or guidelines leading up to your trip. Stay informed about local conditions, transportation updates, and any special events or festivals taking place during your visit.
Remember to be flexible and allow for spontaneous experiences during your UK break. Embrace the local culture, try regional cuisines, and have a memorable time exploring the UK's diverse attractions and landscapes.